Tablet Enclosures
Ruggedized, Dependable Device Protection
VESA Compatible
All of our tablet enclosures are VESA 100 compatible (100mm x 100mm). This makes projects easy, especially when you pair a tablet enclosure with one of our flexible counter-, floor-, or wall-mounting solutions.
Built Solid
We mill our tablet enclosures from a solid piece of resin for durability. With fewer points of weakness, this helps our enclosures better protect your devices against drops and regular wear-and-tear in a busy retail or restaurant environment.
Streamlined Accessories
Our tablet enclosures were designed to fit your needs perfectly. This includes customization options for 3.5mm headphone jack access and power port access, in addition to discrete cable management routed through the back of the enclosure.
Bevel Customization
Want to completely hide the power button and camera on your devices? We have customization options for wide bevels that completely hide these features and make the power button only accessible via a tiny through-hole wide enough for only a paper clip or similar tool.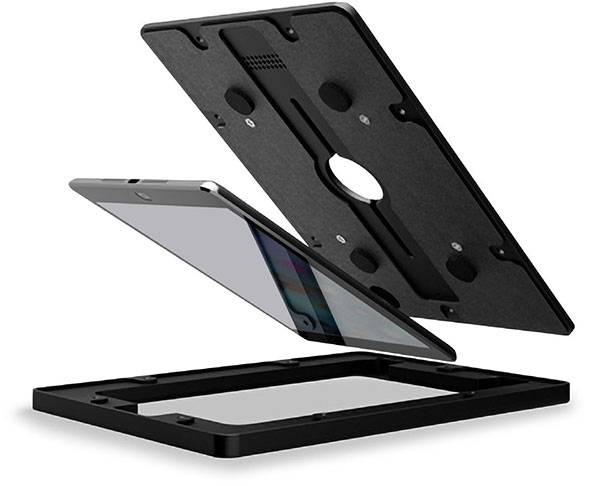 Tablet Enclosures
We have enclosures designed for all major tablet brands. Our enclosures are all VESA compatible and can be designed custom to your specifications and needs. Explore our offerings for yourself today or reach out and let us craft the perfect solution for your business.
Tablet POS Enclosure Mounts

The icing on the cake? Pairing a HAT Design Works enclosure with a customized POS mount. We routinely pair the two for streamlined processes, a sleek aesthetic, and enhanced customer experiences.

HAT Design Works Tablet Enclosures are Built to Last

At HAT Design Works, we design accessories like tablet enclosures to give you peace of mind that your IT investment is protected. Our durable enclosures protect your devices from wear and tear so that you can reap more ROI with fewer hardware upgrades and headaches.